Cybersecurity in 2016 – November / December 2016
[s2Member-Login title="Login or Signup Free to Read the Latest BLF Magazine" /]
[s2If current_user_can(access_s2member_level0)]Read latest issue[/s2If]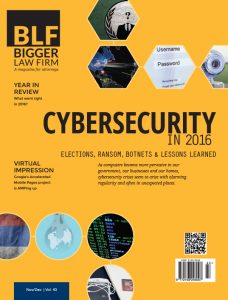 Cybersecurity in 2016: Lessons Learned
As computers become more pervasive in our government, our businesses, and our homes, cybersecurity crises seem to arise with alarming regularity and often in unexpected places. This year alone we have seen hackers wreak havoc on a national party, a presidential election, public institutions and services, and consumer electronics.
Google AMP
The Accelerated Mobile Pages (AMP) Project is an open-source initiative to make webpages load faster on mobile devices, using a stripped-down version of HTML. Google is AMPing up the mobile web, and your law firm's marketing team should be paying attention.
What Went Right in 2016
This year has been turbulent. But in spite of challenges and the distraction of global and domestic events, many firms have seen their traffic and leads increase this year. Law firms and marketers weigh in on what went right this year.
Plus...
Highlights from the search marketing space
Email etiquette and ethics in an era of constant communication
Legal tech solutions to help your firm get organized
How do relevance and authority affect search results?