Is it Time for a Law Firm Website Redesign?
The time has come. You are ready to take the plunge and redesign your website. However, redesigning a website requires a lot of people's time, money and effort.
Before you start your website redesign journey, you will need to evaluate your reasons for redesigning your website and your needs for the new site.
Set SMART Goals
Before diving into the redesign process you will need to assess your reasons for wanting a redesign and identify your goals. Ask yourself, "Do I really need a redesign?" Vague and subjective reasons such as, simply not liking your current website or because your competitor changed their website are not strong reasons to pursue a redesign.
Here are a few good reasons to redesign your website:
The website is outdated or not on brand. If your website is not keeping up with the times and looks like it was made five or ten years ago, it may be time for a refreshed look. Your website does not have to follow the latest trend-of-the-year. However a clean, focused and modern-looking website will elicit positive responses from your users. Also, pay attention to the branding on your website. If your website does not match the branding you have established elsewhere, or if your brand has been updated, visitors are less likely to trust your website, and your online credibility weakens.
The website is not responsive or mobile-friendly. Now that owning a smartphone or digital tablet is the norm, users expect a well-designed website that works on both mediums and is consistent across devices. Users are more likely to search with their phones than on a desktop and can get easily frustrated with websites that are slow, unreadable and unresponsive on mobile devices.
The website does not provide value to visitors. Ultimately, your website is not about you, but the needs of your users. If the goal of the user is to schedule a consultation or find the answer to a question, the website needs to be able to solve that issue quickly and concisely. If the website does not immediately address users' needs, they will be quick to leave, resulting in a low conversion rate. Throughout the redesign process think about what your users are looking for on your site, how your users will interact with every webpage, and how their browsing behavior may differ on desktop and mobile platforms.
The website provides bad user experience. An unfocused and difficult to navigate website is a tell-tale sign of poor design. When redesigning your website, consider how your user will navigate through it. Some examples of features that provide good user experience are: a simple navigation menu, obvious calls-to-action, appropriate visual cues and microinteractions.
Slow load times. Slow website load times provide a bad user experience. If it takes ages for your user to see your homepage, you have a big problem. It is recommended that your pages load in less than three seconds. And even three seconds is a long time. Sit and, look at your blank phone and count to three. It is an eternity. With website load times that take more than three seconds, your users are likely to leave frustrated before they view your site.
The website is difficult to manage and update. The back-end of your website is just as important as the front-end design. Your website should always be updated with content that is current and relevant. Building your website on software that makes updating your website painless and easy is valuable and cost-effective.
Once you have assessed your reasons for wanting a redesign, the next step is to ask yourself this important question, "Does my current website help me reach my goals?"
When deciding on your goals, be sure they are measurable, attainable, realistic and time-bound. A.K.A, SMART goals. The more specific the goals are, the better. This way, the redesign process will be smooth and efficient with minimal confusion among your team and the agency you are working with.
Set realistic benchmarks and timelines
Once you have your goals mapped out, include a realistic timeline and the benchmark steps necessary to reach those goals. Setting deadlines that are too tight will always result in decreased quality due to rushing and overlooking the little things.
At minimum, you can plan on spending 3 hours every week on the website. This includes dedicating time for design feedback, progress meetings and content creation. You can expect the typical redesign to take two to five months. Of course, that timeline can increase if there are more pages and advanced functionality on the website.
Who should be involved in the redesign process?
Now that you have your SMART goals defined and timeline set, you will need to communicate those goals to everyone working on the project. In order to keep your project on track, it is important to include key decision makers in the process. This could include your marketing team and high-level executives, or any other management personnel.
Keep your team small and include individuals from different departments, as that will ensure that the website is being built with the user in mind, rather than personal preference. Good people to consider are employees in client-facing roles, members of your marketing team, higher-level executives and long-time employees. Appoint one person to have the ultimate approval power during the entire design process (such as a CEO). Do not appoint more than one person to have approval power, as this can lead to conflicts and delays in the process.
What to include in your website
Now onto the fun part, designing your website. When moving into the design phase, it is crucial to prioritize functionality over the aesthetics of your redesign. Your redesign should look good, but it must function well with the user in mind.
Here are examples of things to include in your redesign:
1. White Space. White space, or negative space, is essentially the blank space between graphics, columns, images, text, margins and other elements. White space is not always white and can be filled with background color or texture as long as there are no elements in it. Utilizing white space helps with the flow and readability of the page.
2. Simple Navigation. Your navigation should be simple, easy-to-use and identifiable. Keep your navigation slim and have the content within it well organized.
3. Calls-to-action (CTAs). CTAs can be buttons or textual links that direct your users to take specific actions. These actions should give users a sense of accomplishment, such as scheduling a consultation, downloading an eBook or signing-up for a webinar. CTA buttons can be placed anywhere on your website as long as the actions content and placement are relevant to the page it is on.
4. About us and attorney bio pages. These are some of the most essential pages you will need on your website. The about us page is prime real estate to feature your law firm's mission, your team and reputable credentials. Analytics data also reveals it is consistently one of the most visited pages. There is no single magic solution for how to create your about page. You can be simple and straightforward or you can be creative and go big. The key point is to tell your story by being transparent about your firm, who you are and what motivates you, and to give the user a reason to hire you.
5. Great, high-quality visuals. Visuals are a fantastic way to catch the attention of your user and to direct them to specific parts of your website. Original photography is highly recommended and, if possible, limit or avoid the use of stock photography. The imagery you choose to use sets the tone of your website. By displaying real photos of your law firm and staff, users will have an easier time trusting your firm. It is easier to connect when they can identify the people behind the service.
6. A value proposition. Your value as a law firm should immediately be identifiable on your homepage. Do you handle bankruptcy? Is your specialty elder law? Write your value proposition as clearly and concisely as you can. If you can explain how you can solve the users' problems and improve their situation, then users are more likely to continue and browse the rest of your website.
7. Client testimonials. Real testimonials from clients are a must have for law firm websites. Testimonials are a way to show potential clients that your firm has a trustworthy reputation and a proven service that works. For the testimonial page, avoid using photography. Gathering images from every client you have ever worked with can be difficult. Instead, let the words from satisfied clients do all the talking.
Always refer to your user personas and data
To ensure that your redesign project will hit all your goals, you will need to reference your user personas throughout the entire process. Once the redesigned website is live, looking back at this information will help you gain insight into what is or is not working, as well as what pages that can be further optimized.
When creating your user personas, pay attention to:
How each persona will interact with every page on your site
What your ideal personas would look for on your site
How would your personas behave on a desktop v. mobile devices
Keep track of metrics
Now it is launch day and your brand new, redesigned website is live. At this time it is crucial to gather, track and analyze your data. This will help with reaching your initial SMART goals, increase your conversions and better engage with your visitors. It will also let you assess any problems hitting your goals and guide you to making positive changes.
Here are three website redesign metrics that will help you gain actionable insight:
1. Traffic & traffic sources. Increasing traffic to your website gives you a better chance of converting those visitors into clients. Tools like Google Analytics and Hubspot can help you identify your traffic sources. This will help you determine where you are performing well and areas that are underperforming, and apply changes accordingly.
Focus on these traffic sources:
Direct Traffic. Visitors that arrive to your website via typing your URL.
Search Traffic. Visitors that arrive to your website by clicking a search engine listing result.
Referral Traffic. Visitors referred by links on other websites.
Paid Traffic. Visitors from paid sources such as CPC, CPM, display and PPC.
Social Traffic. Visitors who arrive to find your website through social media links.
2. Visitor engagement. Once your website is up and running, it is important to monitor how your users are interacting with the site. What are they doing when they visit specific pages? Is that the action you want them to take? Some things to keep track of are: first time visitors with unique IP addresses, the sites from which users are accessing your page, how long visitors stay on your site and where they are exiting.
3. Visitor lead conversion rate. Having a large volume of visitors can be great, but not so great if you have a low conversion rate. A conversion is a general term for a when a user visits and completes a site goal. There are two kinds of conversions: macro-conversions and micro-conversions.
Macro-conversions:
Signing up for a consultation
Signing up for webinars
Calling your firm
Micro-conversions:
Navigating to different web pages
Viewing videos
Engaging with the live chat
To measure your conversion rate, take the total number of conversions divided by the total number of sessions (the number of unique times a user came to your site).
(Conversions/Sessions)*100 = Conversion Rate
At first, aim for a two to three percent overall conversion rate, then identify the best performing pages and begin optimizing website pages from there.
Conclusion
Taking the time to invest in a website redesign can both be exciting and daunting. Analyzing your reasons for a redesign, having SMART goals and focusing on the user experience from the get-go can make the whole redesign process go smoothly and efficiently.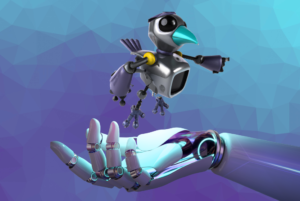 OpenAI's ChatGPT bot has been generating a lot of buzz. But can it generate unique content, over, and over, and over again? To find out, we created a fictional character named Larry, the Hairy Canary and asked ChatGPT to write a poem… and then another poem. And then another. Over the course of our tests…
One of the profound ways social media have shaped all our lives is by making networking and connecting conveniently.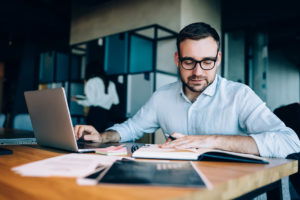 Content is an essential part of a successful law firm marketing strategy, and it is important that attorneys respect the necessary time investment.