Spotify Ad Studio: A Guide for Attorneys
As with seemingly everything else, advertising has evolved rapidly over the last few decades. The scope of advertising opportunities extends far beyond a simple radio ad on a local station — today, people are listening to their radio shows as podcasts. More and more, people turn to online streaming services for their music and entertainment, so they can listen to precisely what they want, when and where they want to.
One such streaming service, Spotify, has over 217 million listeners and 100 million premium subscribers who pay for higher quality, ad-free listening with unlimited song skips and downloads. Spotify also offers its listeners podcasts and videos. The average user streams content on Spotify for around 32 hours per month.
Because Spotify reaches so many ears every day, it has become a prime vehicle for marketing a business. Even better for advertisers is the vast amount of information the online streaming service can learn about its users and help you create targeted ads with incredible specificity. This makes Spotify a potential gold mine for anyone who is looking to reach potential clients.
Why Use Spotify Ad Studio?
Even as advertising evolves, audio ads remain an effective way to promote a business. A 2017 study conducted by Nielsen Media Lab showed that audio ads increased consumer recall by 24 percent versus print or display ads. The bottom line: people tend to remember what they hear.
Spotify Ad Studio is a do-it-yourself advertising platform on which you can create an ad for unpaid Spotify listeners. The entire process is directed by Spotify's helpful and detailed guidelines and backed up by its help department, which makes the service very user-friendly.
Some key benefits to using Spotify Ad Studio:
Audience targeting
Ad tracking
Creative control (if you want it)
Captive audience—free listeners cannot skip ads
Creating Your Ad
You have a couple of options for how your ad is created, and you can choose either a hands-on or hands-off approach. First, you will write a script for a fifteen or thirty-second ad. You can then either record it yourself and upload or submit the script to Spotify for recording by their professional voice actors. They will then add your chosen background music, if you would like some, and produce the ad, all for no additional charge.
Once your ad is ready, you will be able to review and edit or approve. You will also need to upload a 640 x 640-pixel image to display on screen as the ad is playing, along with a clickthrough URL. The image should be thoughtfully chosen, but it is important to keep in mind that the ad display is not the focus. Users generally do not watch their screens while streaming music. If your ad is compelling enough, though, they will click to get more information.
Choosing an Audience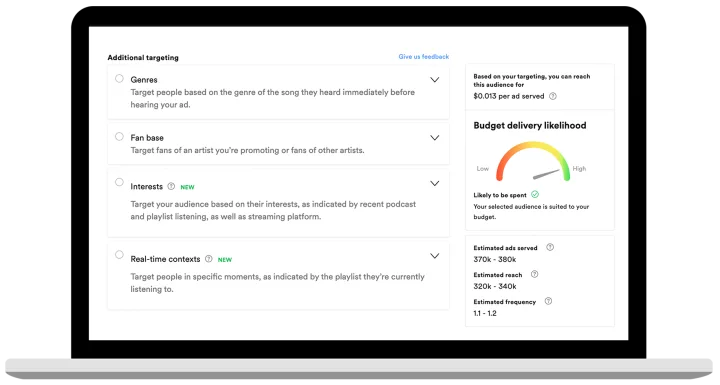 Spotify allows you to decide exactly to whom you want to deliver your ad. You can do this in several ways — demographic, content, platform and/or timing targeting. Depending on what you hope to accomplish with your advertising, you can choose an audience that is receptive to your message, thus maximizing your marketing dollars.
Demographic Targeting — Who is your ideal audience or likely client? Choose from geographical location (state, county or city), age range, gender and/or language, and the ad will be targeted at that demographic.
Content Targeting — What is your ideal audience listening to? You can target listeners based on the music they are streaming, by genre (pop, rock, jazz) or playlist (music to play at the gym, to unwind for bed, at a party). This may be less relevant for attorneys but potentially useful if you have a specific goal or demographic in mind and know your target audience well.
Platform Targeting — How does your ideal audience listen to Spotify? You can choose from desktop or mobile and IOS or Android, or all of them if you are unsure.
Timing Targeting — When does your ideal audience listen to Spotify? Spotify is popular at any time of day.
Keep in mind that choosing qualifiers will narrow your audience, so it is important not to limit too much. If you choose from more than one category, users will need to match them all, and this can make your target group too specific.
The Cost
The minimum amount spent on running an ad on Spotify via Ad Studio is $250. Spotify charges per ad shown, so if your targeting is too narrow and the ad cannot be heard as intended, the amount you are billed could be less than the original budget.
Tracking Your Ad Success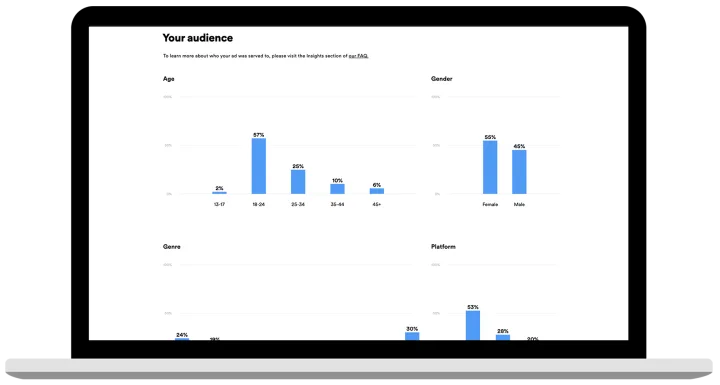 Another crucial aspect of using Spotify Ad Studio is that ad performance is easily tracked. Spotify will tell you how many times your ad was shown, your total clicks, your click through rate's reach (how many unique visitors looked at the ad) and the frequency with which it plays.
All this information can help you determine what works and what needs some more thought within your ad campaigns by testing and comparing different strategies.
Why Attorneys Should Use Spotify Ad Studio
Streaming radio is thriving. Ad Studio is user-friendly, research-based, relevant and it can deliver the audience needed to succeed.
A law firm cannot survive without clients, and Spotify Ad Studio makes it easy to find new ones. Even if the listener has no current need for an attorney, they may need one in the future or know someone else who does. With your firm literally in their ear, they may be inclined to choose you in the future.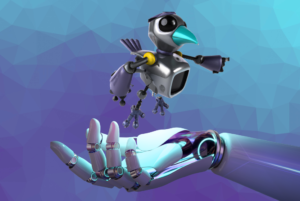 OpenAI's ChatGPT bot has been generating a lot of buzz. But can it generate unique content, over, and over, and over again? To find out, we created a fictional character named Larry, the Hairy Canary and asked ChatGPT to write a poem… and then another poem. And then another. Over the course of our tests…
One of the profound ways social media have shaped all our lives is by making networking and connecting conveniently.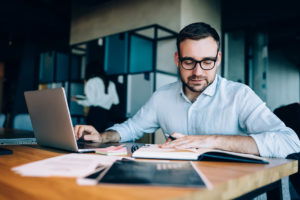 Content is an essential part of a successful law firm marketing strategy, and it is important that attorneys respect the necessary time investment.